Content
Stage Three of the ICAHT Diploma is truly the "Crème de la Crème" of Hijama or wet cupping training. There is no other location or training institute in the world that has the capacity to deliver the wide range of case exposures, professional clinical training and one to one mentorship that this stage offers, all in an integrative practice giving junior clinicians exposure to a wide array of case management strategies. It allows the learner to culminate all the information studied to date via the prior two stages and apply this in real life situations to clinical practice. The students are required to complete a minimum of 50 hrs of clinical practice that not only gives them insights and experience into the way cupping therapy is applied in a real life context but also allows insights and exposure to chiropractic techniques, acupuncture, manual therapy, rehabilitation, nutrition and health coaching, embodying a true naturopathic practical experience. Students will continue to learn via the online platforms and there is still much more video content and theoretical study to be completed so the stage is not merely a practical endeavour. The art of clinical case history taking is studied and later practiced with patients. The legalities of cupping practice and ethics surrounding treatment are covered to ensure that practitioners are equipped with the knowledge they require to stay on the correct side of the law which is something a number of non ICAHT practitioners have fallen foul of and unfortunately suffered the consequences there of. Both the lectures and practical training give deep insights into case specific patient management using tailor made approaches to suit the specific needs of each individual patient. There is a huge module covering joint assessment to allow students the ability to learn how to assess patients from a musculoskeletal perspective using rang of motion testing, muscle testing and refined methods of palpatory techniques normally only ever taught in schools of chiropractic and osteopathic medicine.
​
Overall this stage, which acts as the final stage of the ICAHT practitioner certification program provides an invaluable level of experience, knowledge and applied skills that not only guides practitioners to a high level of clinical practice but also provides them with insights of what it takes to run a highly successful and busy practice. From note taking, record keeping, appointment scheduling and treatment pricing, to the systems employed to streamline the patient experience. The clinical placements are able to offer the students all that they wish to learn in a unique and often unforgettable experience. The relationships built between staff, teachers, practitioners and students is something that becomes cemented during the clinical internship and leads the way for the next stage of involvement which is the clinical mentorship as part of the ICAHT family, membership association.
​
Duration
Stage Three of the ICAHT Certification Program is based on a flexible learning schedule which means you decide how long you wish to take to study the online material. The clinical internships must fulfil a minimal time scale of 50 hrs in total but can be divided up into as few or as many segments as needed to fit your own circumstance. Some students will arrange to attend one-two days per month over a number of months while others may prefer to complete all the ours in one visit (often international students). The time scale of the course is unto you but it is strongly advised that you complete the online study of stage three BEFORE attending for your practice hours.
​
Based on a commitment of 5 study hrs per week the course could take approximately 6 months to complete but this is dependent on current level of education and learning style. It is really down to you and there is no minimum or maximum study duration.
​
Assessments
Stage Three is where the majority of assessments for the ICAHT certification take place and the 50hr internship acts as a medium for the continuous assessment which is done in both verbal, written and practical forms. There will be a number of case based assessments where you will be questioned and analysed in the context of the situation, there is an informal written exam as well as a requirement of 15 written case studies that are to be submitted.
​
Price
As a stand alone stage three costs just £999. If you decide to take the full commitment program however the total cost for all 3 stages is £1999 and any associated workshops are included in this price.
A glimps into what goes on at the ICAHT Clinic
---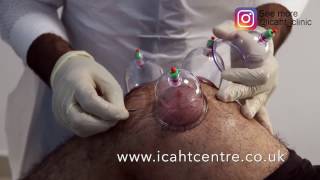 ---
---